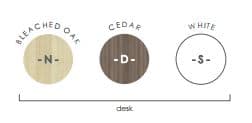 STRUCTUREX® PANELS
Full panels of particles with melamine surfacing. Counter-balanced and treated against reflection. Thickness 16 to 25 mm. Density 680 kg/m3 for the 25 mm panels. Tested as conforming to abrasion and hot & cold water resistance to the XP D60-050 standard.
NITECH® PANELS
Honeycombed panels between 2 melamine coated 8 mm infills, total thickness 38 mm. Decorative coating imitating a choice of wood soecies. Anti-shock reinforcement edging in ABS, thickness 2 mm.
5 YEAR GUARANTEE
The quality and durability of the materials enable us to guarantee all our ranges for 5 years under normal conditions of use.
Technical description
• Top and infill panel is in 38 mm Nitech® are edged with reinforced 3 mm edging and finished with a 2 mm ABS edging.
• The desk rests on rectangular chrome finish pads.
• Structurex® modesty panel available in a mat decorative finish.
• The desk surface can be increased with a left or right hand return.
• The Structurex® return top has a scallop shaped cut that allows cables through from the desktop to the floor.
• The return can be fitted with an extra frosted glass shelf (L 82 x D 49 cm).